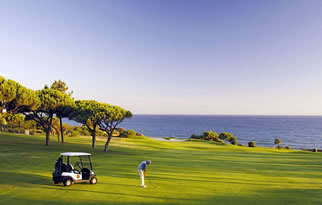 Golf in Algarve
Golfing days on Portugal's Algarve are sheer bliss and remain in the memory long after the holiday is over .Generations of golfers have headed for Portugal's southern coast, lured by 300 days of sunshine, high quality accommodation, a friendly laid back atmosphere, superb scenery and 40 of the best golf courses to be found anywhere in the world.
It was the noted golfer Sir Henry Cotton who established the Algarve as a world class golf destination and he also designed a number of the classic courses along this 150 mile long stretch of Atlantic washed coastline running from Sagres in the west to Vila Real de Santo António in the east. Almost 60 years on and Sir Henry's legacy stands the test of time. On offer is a network of fine hotels, apartments and resorts; marinas, good restaurants and nightlife and yet there are still glimpses of the traditional Algarve with its picturesque hill villages and ancient fishing ports.
Most of the golf is clustered less than 30 minutes from Faro airport around Quinta da Lago and Vilamoura Marina where you can find every facility needed to make your holiday perfect. However, there are undiscovered treasures to be found both westwards along the rugged coastline towards Sagres and on the tranquil eastern side where pristine golf courses nestle between timeless whitewashed villages and world acclaimed nature reserves teeming with wildlife. Not only is The Algarve a "must" for the amateur golfer, the quality of its courses have attracted some of the world's top professionals and tournaments such as the World Cup in 2005 and Portugal Masters in 2007 and 2008 add kudos to its golf. There is plenty for the non golfer too - high class shopping, luxurious spas, sports of all descriptions, restaurants, casinos and night clubs, sightseeing and fabulous beaches to top up that tan. Whatever you are looking for in a golf holiday The Algarve has it all. What's not to like?